I know of a little wine shop on the top of a hill, peeking out above the fog that blankets San Francisco. It's called Ruby Wine, and it might be the best natural wine shop in America right now—for selection, for vibe, and for that special ineffable x-factor that happens when the soul of a neighborhood fuses with the place that serves it. Where the character of a street, a block, a hill, dwells inside an intimate public space. A destination that brings you to one special—perhaps overlooked—district within the teeming City, drawing you back again until you become, if only for an evening, part of the neighborhood too.
That neighborhood is Potrero Hill, perched above the Mission District to the west and the Dogpatch to the east, giving way then to the San Francisco Bay. Ruby Wine's proprietor, Aran Healy, is part of an ongoing phenomenon in the California wine scene, in which the second and third generation of California wine industry kids have grown up to substantially shape the scene's present and future.
Healy—who looks like he might surf, or at the very least, knows surfers—splits time between Santa Barbara and Potrero, where Ruby Wine, all 350-square-feet of it, stocks 250 or so bottles at a time from winemakers working in a deeply minimal style. "[These are] wines without anything added, even sulfur—nothing," he tells me, over the course of an hour or so of conversation on a busy Monday night in the shop. There's a couple of rad bottles open: stuff by Absentee Winery, Cantina Giardino, La Sorga, Le Coste, and Vini Viti Vinci. And that's just tonight's glass pours.
This interview has been edited and condensed for clarity. 
Hey Aran, thanks for speaking with Sprudge Wine. By way of introduction, how did you first get into wine?
I grew up in remote Mendocino County, and my dad worked there for what at that time was considered a boutique, emerging California winery called Fetzer. He was hired in 1972 and worked for Barney and Kathleen Fetzer as a kind of jack of all trades in the winery, working crush, managing the tasting room, and ultimately becoming their environmental manager as they grew to a million case production. So I grew up around this, and there was always wine on the table. When it came time to fly the coop I went to Sonoma State University and got into environmental science and geology, and through that ended up traveling, spent time in France, went back to school at UC Santa Cruz, and ended up working for a small family winery called Beauregard. I worked for the owner himself, and this was before he was married with kids, and I was just 22 years old. He'd just opened up a tasting room on the wharf in Santa Cruz, and he hired me to work in his tasting room. After a few months, he realized I wasn't the best fit…
Why's that? 
Because I was staying there late, and having way too much fun. So he asked if I'd consider working on the production side and I took the chance. I actually worked for him off and on for about five years, and during that time I learned so much, man. Just working the vineyards, farming, making wine, going to events, spending the winter months traveling…it was really great.
[
Healy pours me a glass of Le Coste's "Pizzicante" Rosato, a sparkling Sangiovese from Lake Bolsena in the Lazio.
]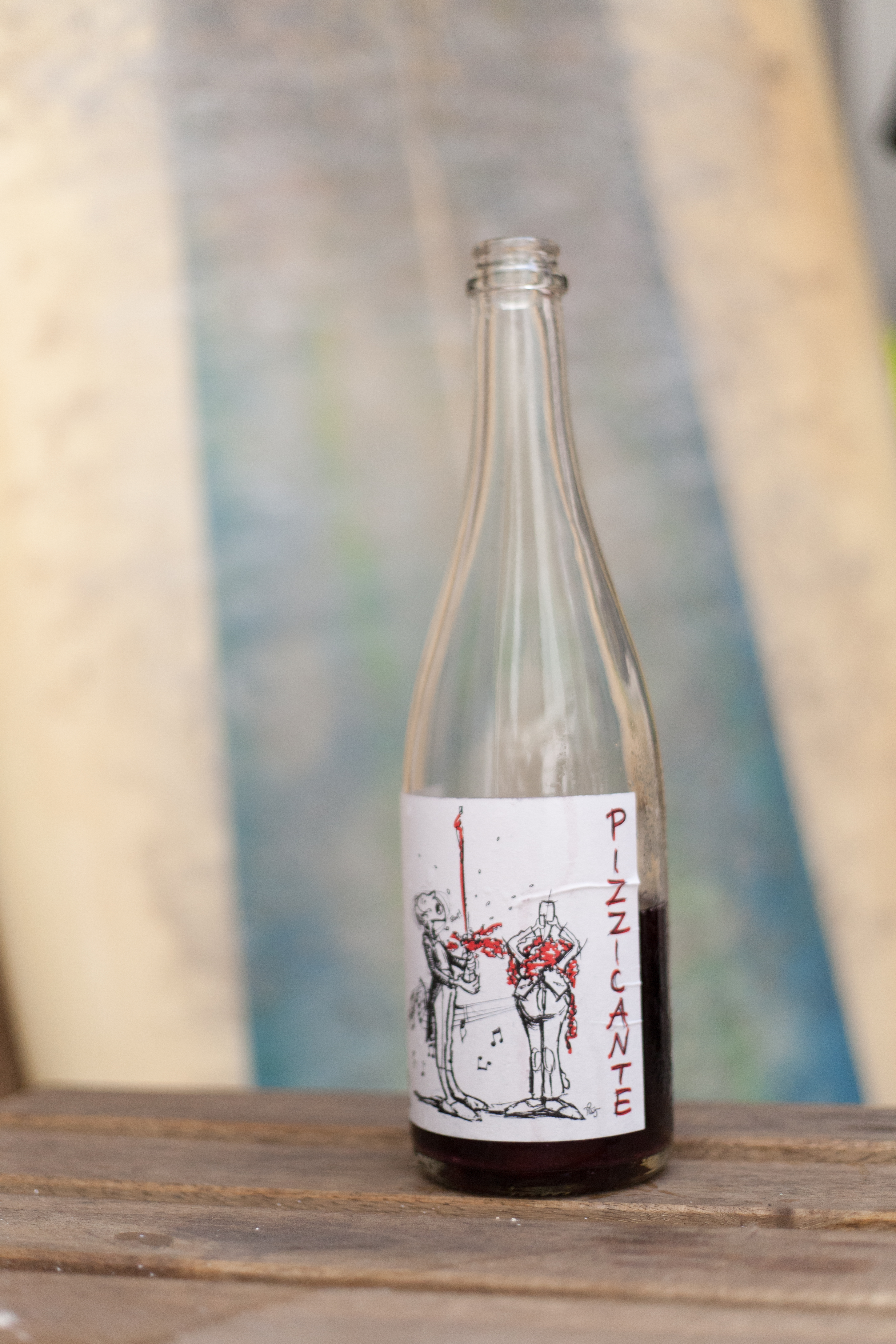 Ruby Wine opened in 2002; you bought it in 2011. What was the earlier version of the shop like?
Alright, so here's the full story. It opened as Ruby in 2002, and it was operated by a guy named Joel Bleskacek—he and his wife own Plow, the trendiest place to get breakfast in the city. Plow opened around 2011, and ever since then they've been doing incredibly well. Ruby went up for sale in 2011 as well as the neighborhood spot—a cool little spot, but it didn't look like this, and it didn't have these wines.
In 2011 I was working as a commercial winemaker with my own boutique organic production called Carlotta Cellars, down in the Dogpatch, just down the hill from here. My business partner and I would come up here and have dinner, and one day we popped in and met the owner—and it was just one of those things. Within two visits we started talking to him, you know, and he mentions if we might know anyone who would be interested in the space. I remember him saying that they didn't want to advertise it, but wanted to find someone who seemed like the right vibe for the neighborhood.
I came up here the next day with a group of other winemakers to look at this place as a potential for like a semi-urban "winery bar," but after a short conversation with Joel, we decided that's not the right fit for this place. The very next day I came back alone, and this time I'd already been thinking about maybe having my own little retail and wine bar spot. Nobody else wanted the cooperative, but I approached Joel on my own, negotiated, looked at paperwork, hashed it out, and it happened fast — in hindsight it was ridiculous.
My mom still thinks I'm batshit crazy, but it turned out to be the right move. Now this place to me is the second most important thing in my life, next to my family.
Where did you get turned on to natural wine?
When I was making my own wine, I was dead set focused on sustainability. My father was in charge of sustainability for Fetzer, and they're one of the biggest wineries in the United States now. He was integral in making them become one of the USA's first carbon neutral wineries in the 90s, and growing up around this, when I started making my own wine I wanted to pay homage to what my father had achieved. I really believed in it. So when we set off we wanted to work with vineyards farming organic and sustainably, developing sustainable packaging, all this stuff—we tried to do our part on the small scale.
But it wasn't until I started with wine retail in 2012 that I realized that side of it wasn't quite enough. It was like, you know, it's great—you're sustainable and carbon neutral, you're a steward, it's amazing—and yet the wine is lifeless. And I had no interest in it; I didn't want to drink it or serve it. Drinking too much made me sick.
So after a few short months of buying wine, I started to weed through all the endless amounts of plonk you try as a wine buyer. There was a good friend of mine, Chris Scanlan—he was one of the first people, from Amy Atwood Selections, to come in and pour me real natural wine. Wines without anything added, even sulfur. Nothing. That's my definition and I still stand by that.
And I was like, whoa—I was skeptical. I taste from a commercial winemaking background and at first I said, "Thanks man, but no"…I didn't buy anything from him. But I kept thinking about these wines, and going back to Chris and saying, "Hey, I want to taste more," and by mid-2012 natural wine was all I could think about and all I could drink at home. I didn't want to drink anything else.
How many bottles do you typically stock?
250 SKUs, from around 125 winemakers.
[
Healy pours me a glass of the La Grapperie "Adonis" Coteaux de Loir Pineau D'Aunis, imported by Jenny & Francois Selections.
]
This is one of the first grapes I really loved for natural wine, you know. Pineau D'Aunis has this light and earthy thing, so strange and complex and addicting to drink.
How is Ruby approaching the "drink local" sentiment here in San Francisco? Obviously, imports are the focus here but…you know, you're a half an hour from wine country.
Of course, I want to support the local scene and we're involved as much as we possibly can be, but over the years we've sold less and less California wine. Especially over the last year and a half, the selection of domestic wines we carry here has dwindled down to just eight to 10 selections. And those selections are from producers who are doing one of two things, if not both: either growing their own fruit or being very intimately involved in the growing aspect as a winemaker.
There is a huge disconnect here as compared to our European counterparts, where the emphasis is much more on control over farming. There's a lot of people making great wine here, but if it's not farmed organically I have zero interest as a caviste—we're trying to support the process all the way through. We're in it to win it and making no compromises.
That being said, there are of course some really wonderful winemakers here in northern California. Folks like the Coturri family—they are wonderful farmers, really the best organic farmers in the state, and they make no compromises in their wines.
You're talking about both the Coturri label as well as their Sonoma Mtn. Winery wines?
Yes, both father and son—Tony Coturri, and his son Nic who does Sonoma Mtn. I also really like this new cat out in Pt. Reyes…
[
Healy moves to grab a bottle off the shelf
]
Have you seen this wine? Absentee Winery. Ingredients are listed as "grapes". This is amazing stuff, and it has this commitment we love that makes these wines as well.
But to answer your question, for this shop in particular…not to hate anyone's preferences, but we're dedicated to working with farmers that farm organic and make wine without sulfur. We're taking the extreme, which limits what we can work with from California.
[
Healy opens a bottle of Strohmeier "Trauben, Liebe and Zeit" Rot 5, a blend of 50% Blauer Wildbacher and 50% Zweigelt from Styria.
]
You've tried these wines, yes?
Yes, wonderful wines. I've had luck finding a range of them in New York at places like Uva Wines, but out on the West Coast it's uncommon to see much beyond their Rosé Sekt.
We're usually a little skeptical about the Austrian producers, but I like Strohmeier a lot—they're an exception. When I look at most of the Austrian brands, I see exquisite branding, wines that are made naturally but squeaky clean, and there's almost like a marketing PR presence around it that goes against so much of what I believe in. The producers I work with in France and Spain and Italy are…not necessarily commercial driven, you could say. So when I see this hyper-branded super clean wine that's very expensive, I get skeptical.
Why are we drinking this wine? Are we looking to have an epiphany moment, a magical experience, where price is no object? There's points in time I want to sit down and have a special experience with big hand-blown crystal glass and really get into it, but I've stopped coveting expensive wines. You come over to my house, there's a couple $20-30 dollar bottles of cold red wine in my fridge and I'm drinking it out of a mason jar.
As a caviste, is there a certain wine that's become like your white whale? A unicorn wine you've never quite been able to get into the shop?
Totally. I can make a couple analogies, but you know…one that is slightly offensive for your readers in San Fran and Portland, but it's like how people talk about being a game hunter—there's this obsession with being able to find and locate and track down and hunt for something, and ultimately achieve your goal and acquire these particular things. For me, it's a big part of what drives me, this thirst for exploration, and to be able to get a hold of wines that are elusive—winemakers that are hermits, almost, who don't take appointments. It seems crazy, but there are winemakers out there who are almost allergic to business. Winemakers who don't particularly seem to care about selling wine.
People like Bruno Schueller in Alsace or Pierre Beauger in Auvergne. These wines are some of the rarest, hardest to find, most coveted wines in a very small circle of wine drinkers. Many people who drink natural wine have most likely never heard of Pierre Beauger because it's not watering hole glou glou wine. But once you start getting into it, this guy is a fucking wizard, just an absolute magician, in wine. But it's impossible to find. Go to London, go to Copenhagen and ask about Pierre Beauger and it's like, "Good luck." So when Ruby started working with him it was one of those moments of like, wow, it's so special to have this in my shop. And all I want to do is pop it and pour it for people—that's the hardest part, is resisting the urge to pour it for everyone.
But yes—to answer your question, there's a white whale, but I know how this works. If I told you the name it, and you print it, that would risk me getting the wine.
Fair enough. Has awareness and interest in natural wine grown here in San Francisco since 2012? In what ways? 
Yeah, totally, but it's still changing—we are on the cusp of it here. I walked in tonight and within two minutes there were groups of customers who came in looking for wine by the glass, and people in those groups asking for the house chardonnay and cab options. That still happens still every day, and we navigate it, because we don't have a house Chard or a Cab—we do tastings and we have stuff open, but there's no menu. We'll get something in their glass that they appreciate, and we want those customers to say, "Wow, that was good, that was different," and then come back wanting more. You build a customer base that way.
There's been an uptick in people coming in and recognizing the wines we're pouring, versus two to three years ago, when our work here was still primarily education-based and required a lot of explanation. If you just cut it all out, those preconceived ideas of wine, and say, "How does this taste"—whether or not it conforms to what you think wine is—you can ask yourself, "Does it taste good? Does it make me happy?" Most of the wines here are simply enjoyable. It's visceral.
It's not hard to convince people that natural wine is delicious. If you pour them some really wild out there stuff that has bacterial issues, well yeah they might freak out, but the basic fundamental is these wines are fun, easy to drink, and they can be expensive and serious too if you want to take it there.
Ultimately, look: If you go into a beer bar, or if you go to London and go to a pub, people are drinking beer slow and fast, talking, playing games, and it's the neighborhood watering hole where the drink is an accompaniment to everything else going on. The conversation, the atmosphere, the place—that's what the pub is about. Natural wine is like the ideal counterpart to that in beer, in the traditional pub sense. Folks can come in here and get a cheap glass of wine that's delicious from an interesting producer, and you don't have to give a shit. You can carry on a conversation, hang out, and you don't have to sit down and pontificate over the glass.
Do you experience the impact of the growing mainstream natural wine hype? Like are people freaking out over the Susucaru you carry, or the Cruse Ultramarine, etc?
This might be the largest barometer in the change of the market. Two to three years ago we'd have these wines on the shelf and we'd have to give a lecture on why someone should be buying it. I'd spend 30 minutes talking with customers about a handful of wines. Now they come in and ask for cases. And that's wild. I could order pallets of Susucaru and sell them all, and that's insane. But we only get a few, so what are you gonna do?
Same with Ultramarine—it comes in, hits the shelf, and it's gone. But you know, we don't have a big Instagram following here. We don't do a lot of wine porn. We don't do a lot of press. But the fact is that people still call, the phone rings off the hook without us pushing it out there, and it's very telling.
It's awesome. I'm not gonna lie, it's awesome for me as a shop owner and someone who loves wine. The more people are into these hyped wines, the more they're willing to branch out. It's the new gateway drug.
What's your web sales situation? Is this something you're focusing on outside of the shop? 
Web sales is an increased focus for us. We just parted ways with Delectable, which has been a long time coming, and we're excited for what the future holds. Connor Geraghty, who is my second hand here, has created a Shopify for us, and it's beautiful looking. That web store that will tie into a revamp to the home page of our website, and give more information on who we are and what we're doing. I'm very excited for this, to have more control over it and offer a better aesthetic feel, and we want to cater to people who are interested in this stuff around the country.
You're currently splitting time between Santa Barbara and San Francisco. Do you think you'll open a Ruby Wine or some other concept in Santa Barbara next? 
Yes! I have a propensity for entrepreneurship. I've wondered, what could the community benefit from in Santa Barbara? And in turn, what can I do? If I can somehow translate that into benefitting a community and achieving a slight monetary success, I'm totally interested.
It's not about making money—nobody is getting rich here—but because the community enjoys this place, Ruby is sustainable. We keep the deals good for drinking wine on the premises. If it's working for the neighborhood it's sustainable, and that's where I want to be.
And so if there's an opportunity, in Santa Barbara or maybe West Los Angeles, then yes—in a perfect world I would do another concept, but I won't stress about making that happen.
Talk to me about this neighborhood—Potrero Hill is such a special little place, off the track for most people and hard to describe.
For me, this little area is such a quintessential San Francisco neighborhood. It's old school. It has the old guard San Francisco demographic, as well as a new incoming demographic. It's so representative of the city, past and present, and our little shop is a small, quaint place for the neighborhood to get together.
We get all kinds of people in here. People come in and don't give a shit about natural wine—they just hang out because it's a neighborhood spot. And then other people come in and they freak out, because it's hard to get many of these wines. I'm about bridging the gap—to be on the cusp of a trend but also a neighborhood commodity where people want to hang out and drink a $10 glass of wine, or pop a bottle for a $10 corkage fee. People just want to chill.
But it's crazy to me, as a visitor at least, that Potrero Hill hasn't "happened" yet—is there anything like a chic new restaurant here? A must-visit bar besides that great old Giants dive down the block? 
It is crazy, but no, this is not a destination neighborhood yet. You are such close proximity to these hotbed trendy areas—The Dogpatch, SoMa, the Mission—but Potrero is like, sandwiched in-between them. Stuff is old here. The buildings are old. Homes are flipping—if you want to buy a house, it's a hot market—but in terms of having commercial destinations in Potrero Hill proper, it's slow.
There's street-level restaurant spaces here that have been empty for six months and nobody is leasing them. That's crazy in a city like this. It's not a destination neighborhood for going out to eat unless you're going to Plow for brunch. And everywhere is that mix of old and new: you can go to Provender next door and get a nice $4 cappuccino, or you can walk a half a block down the street and go to an old-school place serving burnt $1 diner cups. Or go another block to Farley's—that place has still got that 90s grunge rock and roll edge to it, and people don't give a shit.
It's kind of awesome, actually—Farley's is like 90's San Francisco preserved in amber. You're waiting for the Spin Doctors guy to come walking out.
Exactly! And you know, they're the counter counter culture now. There's so much new in San Francisco that these in the 90s places are really the old guard. But I find that working in a neighborhood like this is such an ideal scenario for me. Rents are old; it's not a big destination for commercial real estate. It's a convivial atmosphere. There's neighborhood people who come in like it's wine "Cheers". I come in and see people, I recognize them. So if I were to do this in Santa Barbara or Los Angeles, I'd want to find a neighborhood there that reminds me of Potrero. I'm not sure it exists, but I hope so. I'm looking.
Thank you. 
Jordan Michelman is a co-founder and editor at Sprudge Media Network. Read more Jordan Michelman on Sprudge Wine. 
Photos by Connor Geraghty for Sprudge Wine.